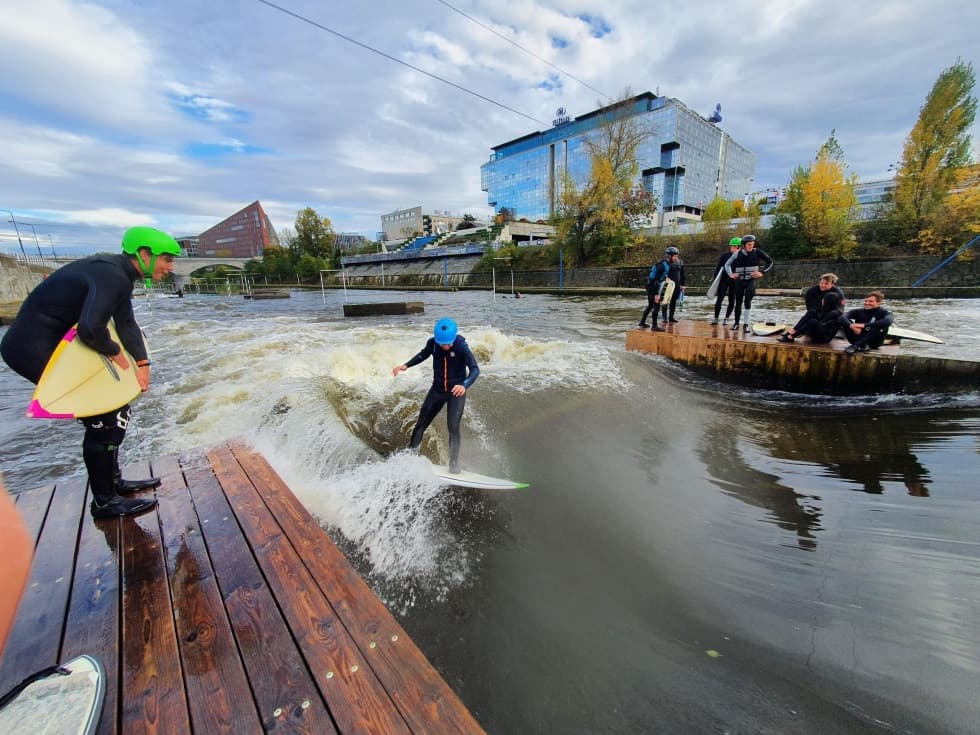 river wave on štvanice island
By the end of 2022, a group of fearless individuals from Vlny Štvanice finally fulfilled the wet dream of all Prague surfers and they built a river wave on Vltava river right in the center of the Czech capital. Thanks to our cooperation, we can organize training sesions on this wave and we can broaden our landlocked ocean prep with an activity that is very close to actual surfing! You can find all the necessary information below.
HOW TO START?
The river wave next to the Štvanice Island is quite a peculiar spot so you need to start by booking the first lesson with an instructor. You have to pass an initial safety training so you can surf on your own and be able to book your sessions in the reservation system of Vlny Štvanice. After completing this course, you will become an independent surfer. There are several ways to do so:
our regular sessions
If you are a member of our club and you have paid the annual membership fee, you can book a slot in our regular river surfing sessions. There, our certified coaches will explain to you what is needed to be able to surf safely on this wave. Our training usually costs 300 CZK, but if it's your first time and you need the initial training, it costs 500 CZK. If you are not a member of our club, you can try the wave with us, too, but you will not be allowed to book your own slots afterwards.
Vlny ŠTVANICE INITIAL TRAINING
Vlny Štvanice organize their own courses for beginners . During this course, you will get to know all the necessary information including where to put your stuff and rent the equipment, how to get to the wave, how the wild water canal and the wave itself work and what you need to be aware of in this spot. This course costs 1 000 CZK, including the time on the wave and a certified instructor that will take care of your group of max. 8 people.
Individual lessons with us
If you are a member of our club and you prefer an individual approach, or you prefer one of our great coaches, you can also pass the initial training as an individual lesson. The main advantage is that you are able to book a time slot according to your preferences and the instructor will focus on you exclusively. The individual lesson costs 1 200 CZK, including the time on the wave and the instructor's exclusive attention! ;) Find our instructors and their contact details here.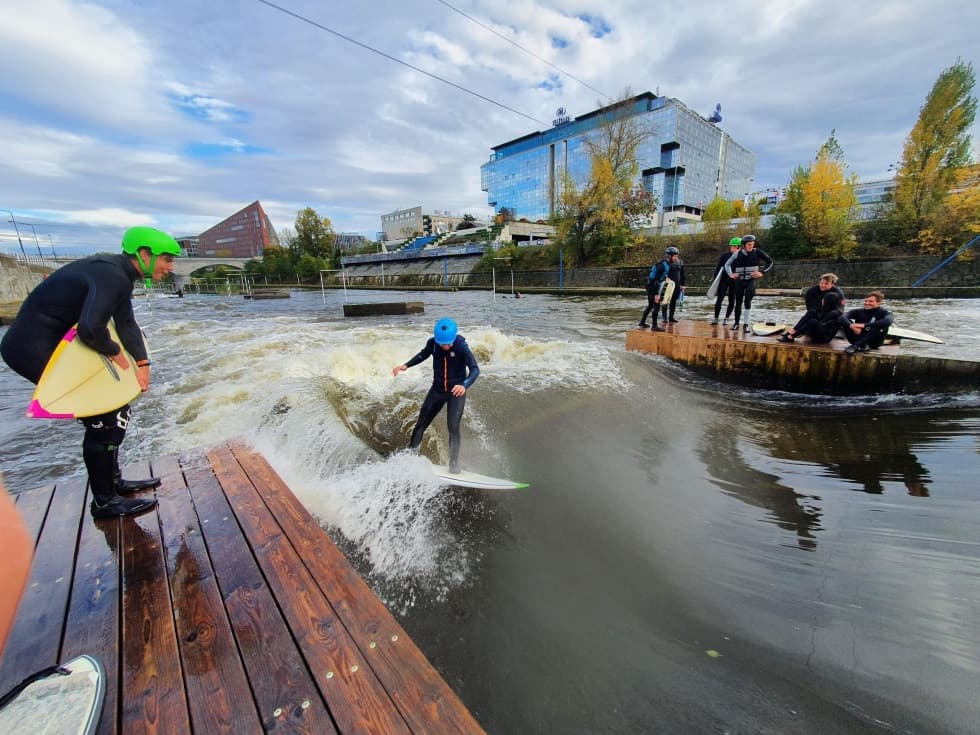 BASIC INFORMATION ABOUT THE WAVE
Find all the necessary information on the website of Vlny Štvanice. We recommend articles "What to take with you" and "What kind of board works at the wave". They are unfortunately in Czech only. Find the most important locations on the map below (our clubhouse is in "Loděnice Vlny Štvanice"). FYI - you can watch the wave only from specific locations highlighted on the map. You can not get right to the wave without getting wet. Do not try to get there through the canal locks!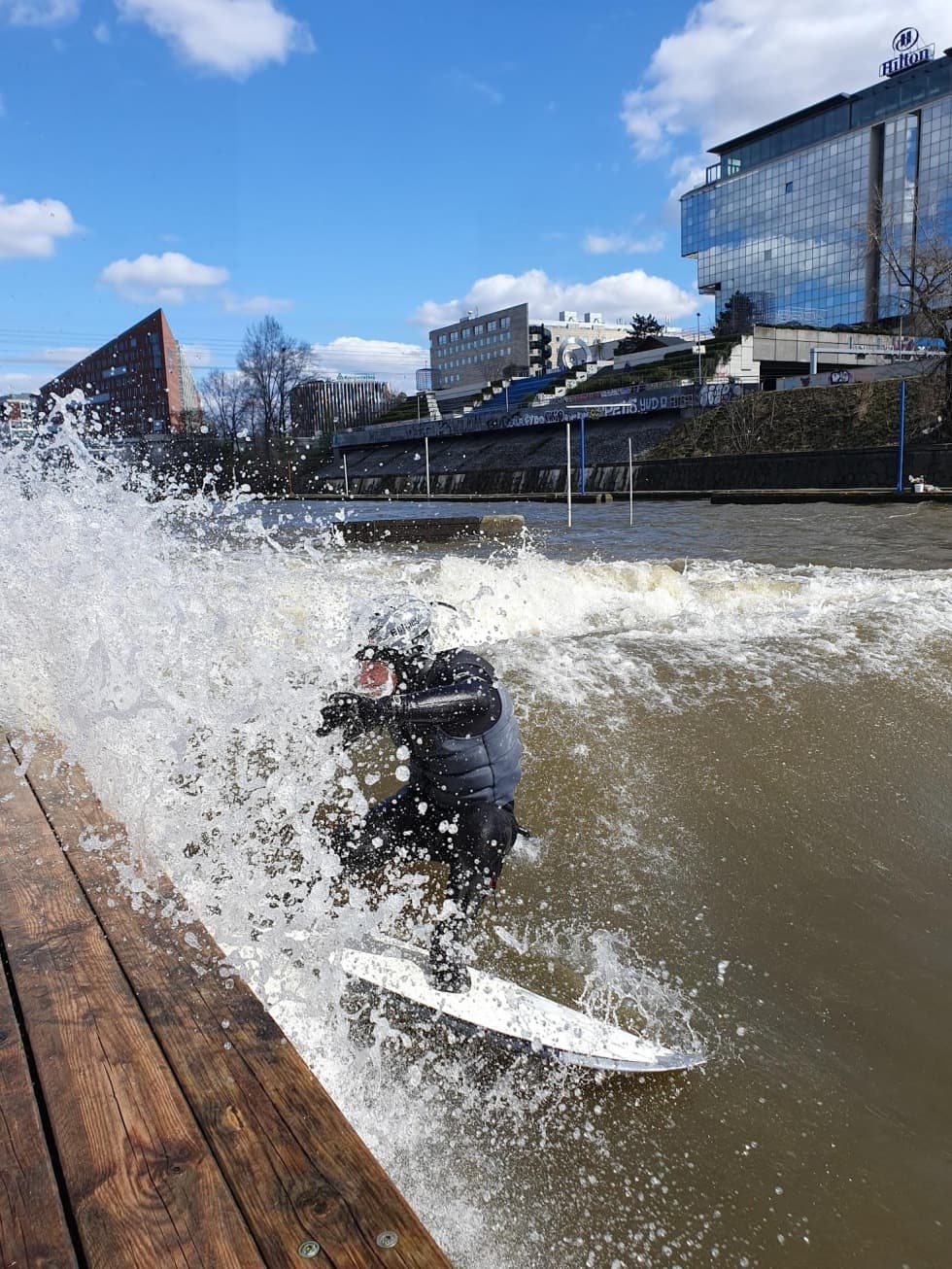 HOW TO PROGRESS?
Have you passed the initial training, you wanna surf more and progress? You have three options to do so:
surf, surf, surf
Haha, who would have expected that? You can find the suitable time slot in the reservation system of Vlny Štvanice, make a reservation and surf for 1,5 hour with other riders. Every minute in the water counts. Don't get stuck and do not forget to try new things! These sessions cost 400 CZK (but it can get as low as 225 Kč with the purchase of credits).
Join our river surfing sessions
Book a slot in our regular river surfing sessions and progress under the guidance of one of our coaches. They are amongst the best Czech (river) surfers and they will do their best to teach you the right technique that you can transfer to ocean surfing afterwards. If you have already passed the basics, they will hype you to try new tricks and progress further. The price of our guided river surfing sessions is 300 CZK for the members and 500 CZK for others.
train individually with one of our coaches
IDo you want to progress faster or you wanna make sure that you are doing everything right? Contact our coaches to book an individual training. These can happen anytime during the normal surfing time slots or during our river surfing sessions. Count with paying 500 CZK extra for the exclusive attention of our instructors or 800 CZK if you are not a member of our club.
OUR COACHES
Our certified coaches have undergone the instructors' training of Vlny Štvanice and they are one of the best Czech (river) surfers. Meet them at our regular river surfing sessions or contact them to book an individual lesson.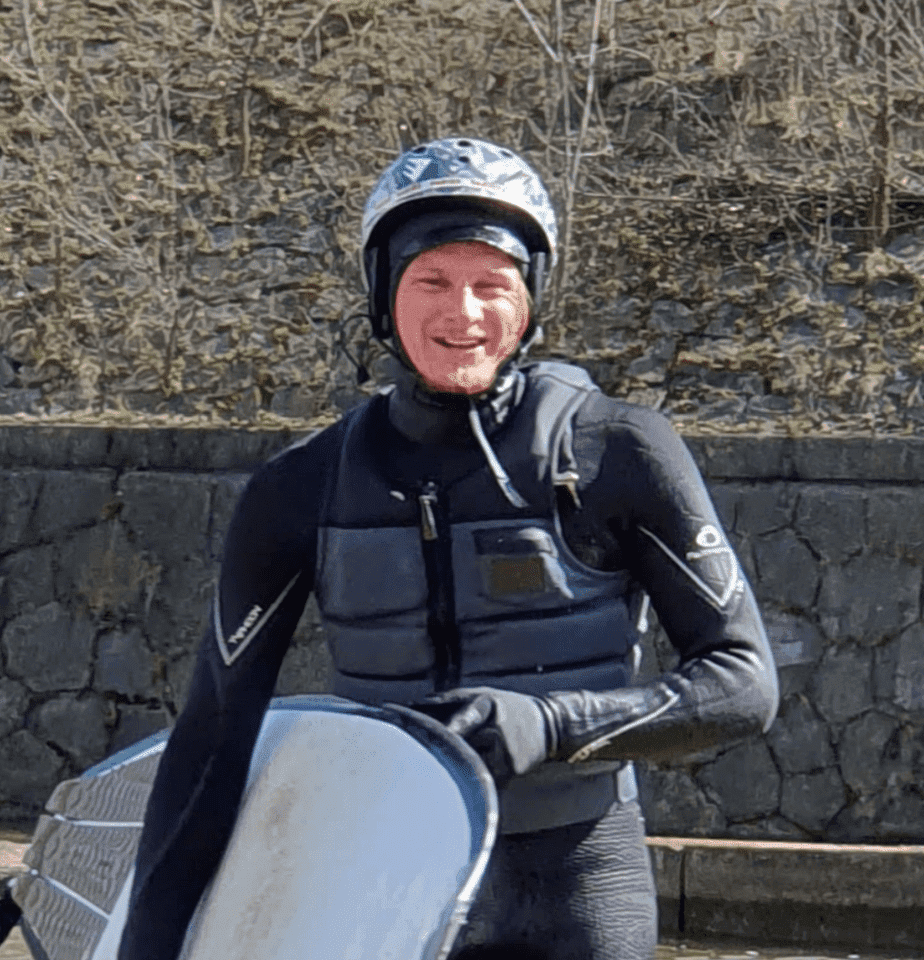 Janek Moleš
coach, champion
+420 776 199 407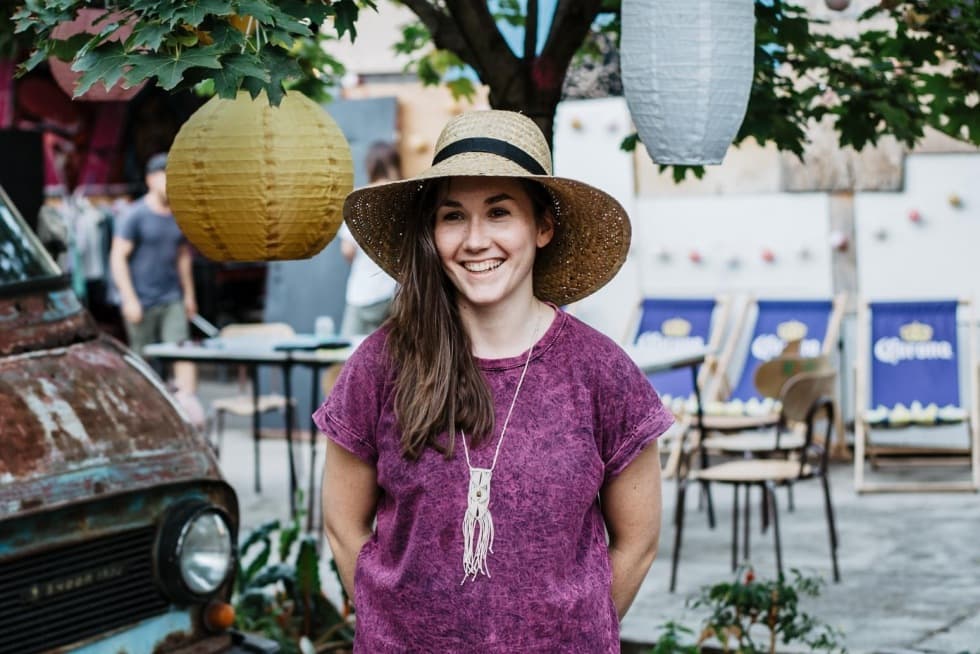 Terezie Dvořáčková
coach
+420 776 251 858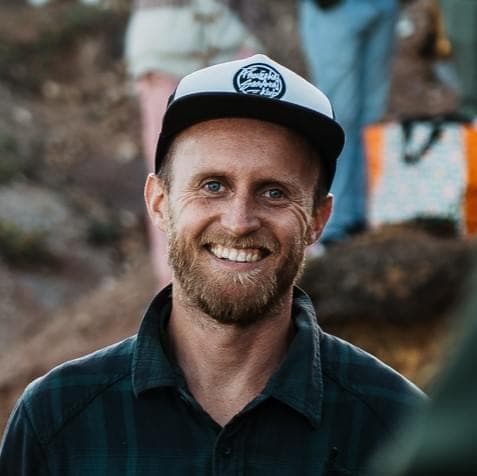 Matyáš Menšík
coach
+420 603 449 568
surfboard
Ideally, you should use a river surfboard or a shorter ocean surfboard (max. 6' long with a narrow tail). Leash is necessary, but you have to wear it above the waist on the vest, your arm or a belt. We have rental surfboards for 300 CZK per session.
Helmet and vest
You have to wear these two, no matter how well you surf. We will not allow you to surf without it. Rent it for 100 CZK and 50 CZK.
wetsuit
To protect yourself from getting cold or hurt after falling, wear a wetsuit even when it's hot! You will need a 5 mm wetsuit, hood and gloves from November to March. You can rent a wetsuit for 300 CZK. We do not rent hoods and gloves.
booties
Wetsuit booties ideally and at least 5 mm thick during the winter. If you do not have any, you can wear old skate shoes. Otherwise, you can rent them for 50 CZK.
RENTAL
The rental is run by Vlny Štvanice, but you can use it during our river surfing sessions and book the equipment in our reservation system.